The Guardian on Tuesday, October 19:
Chinese effort to gather 'micro clues' on Uyghurs laid bare in report
Helen Davidson in Tapei  and Vincent Ni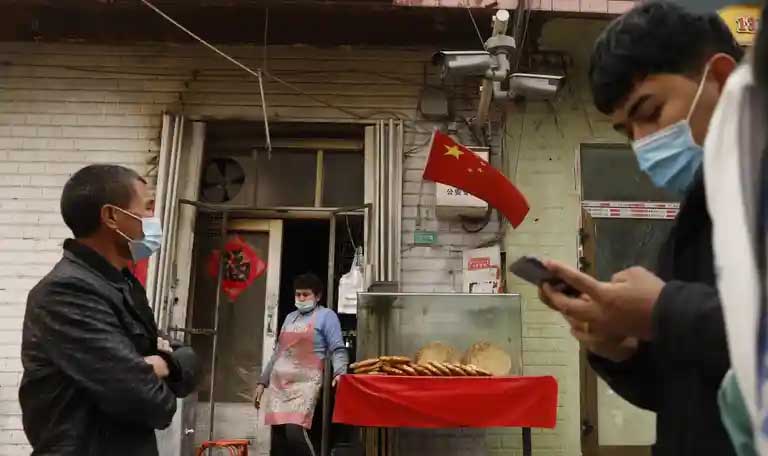 A vendor selling naan bread waits for customers on a street under surveillance cameras in Shule county, Xinjiang.
I'll start with the byline. Vincent Ni – his grandfather fought with Chiang Kai-shek's Kuomintang against the communists – has a profile here. For her part, Helen Davidson featured in my April 11 post on the Uighurs. I began that post with a general observation:
Few things are more predictable than the demonising by corporate media of 'regimes' which obstruct Wall St. And nothing has rattled Wall St more than the rise, faster than foretold, of China from sweatshop for the West to global challenger of dollar hegemony.
In demonising China, the strand on Xinjiang's Uighurs is front runner 1 … Here's Roderic Day under the header, The Xinjiang Propaganda Blitz:
The rise of Xi Jinping and the Belt & Road Initiative posed a serious challenge to American supremacy much earlier than they were expecting, so

the US amped up its funding of terrorism, as per Brzezinski's

Afghan Trap but

instead of sending in the PLA, repeating the error of the Soviets, China reacted by building schools and vocational programs.

So the US desperately pivoted to crying "genocide" despite lack of evidence. 2
I then went on to a story the Guardian had run two days earlier:
We learned this week of suspended death sentences for two former education officials. This April 9 report by the Guardian's Helen Davidson, based in Taiwan, begins:
A Chinese court has issued a suspended death sentence to the former directors of the Xinjiang education department for charges including writing and publishing school textbooks it said were designed to "split the country".

[Two] were given death sentences with a two-year reprieve, while five other Uyghur men … were given lengthy jail terms, according to state media … amid a PR offensive pushing back on international criticism of its abuses in the Xinjiang region.
I note that "charges including". Why does she not say what the other charges were? (Or what steps she took to find out.) Could "charges including writing and publishing text books" also include murder, treason or incitement to the same? Assuming she is honest – which I will until shown to be wrong – why won't she do her job?
That was in April. Here again is the opening image, a Xinjiang street scene, for this Tuesday's story. The caption has one purpose: to alert us to the surveillance camera.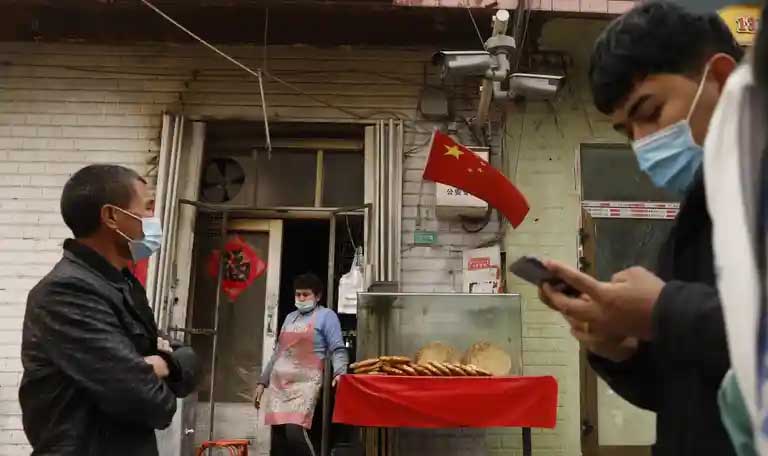 A vendor selling naan bread waits for customers on a street under surveillance cameras in Shule county, Xinjiang.
Subtext: see how a paranoid Beijing spies on its own! As with all propaganda, advertising not excepted, it bypasses conscious thought to tap primal beliefs, fed in this case by lifetimes of absorbing – in school, family and church; from press and news broadcast, page-turning thriller and onscreen entertainment – the message that states with socialised property relations, and by that fact anathema to the privatised relations the Guardian's business model obliges it to serve, are invariably and necessarily brutal and repressive.
There's a self fulfilling aspect to this. States on which the most powerful capitalisms declare war, hot or cold, adopt a siege mentality unconducive to civil liberties. Not that this applies solely to imperialism's enemies. Has it not legitimated the West's own inroads – on habeas corpus, internment without trial, extraordinary rendition, 'enhanced interrogation' and much besides – all made in the name of the 'War on Terror'?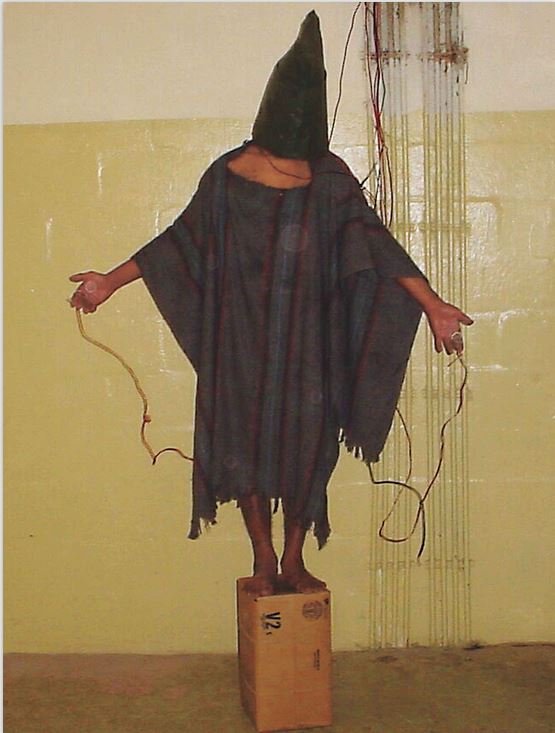 Propaganda works below the radar of critical reasoning. If we were to subject its subtexts to rational scrutiny their grip would weaken. We might ask awkward questions. Like why, in this case, the Guardian saw fit to alert us to spy cameras in Xinjiang as something creepily exotic – when we in the West have long been subject to these and other surveillance tools beyond the wildest dreams of 20th century totalitarianism. 3
If we in the West weren't so historically and geographically uninformed we might actually know how our own rulers have used Islamist extremism, to further imperial ends, in an unbroken line from Lawrence of Arabia, through the Mujahadeen of cold war Afghanistan and Israel's use of Hamas against Fatah, to those 'moderate Islamists' – what US economist Michael Hudson calls America's Foreign Legion – deployed to bring down Ba'athism in Syria.
We might even get out a map to see just why the US Empire would be up to its old tricks in this neck of the woods …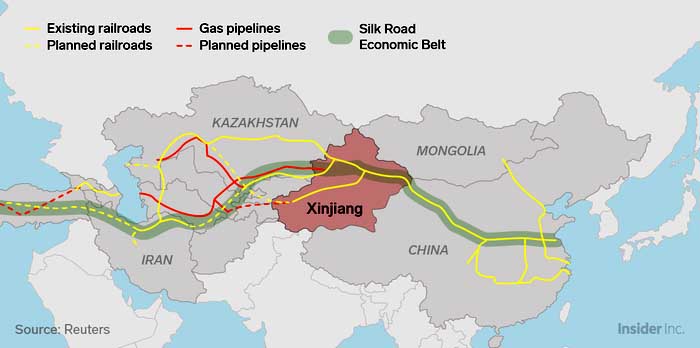 … and recall Roderic Day's words:
Belt & Road posed a serious challenge to US supremacy earlier than expected, so the US amped up its funding of terror in the region, as per Brzezinski's Afghan Trap but instead of sending in the PLA, as the Soviets had, China reacted by building schools and vocational programs so the US and its allies desperately pivoted to accusing them of "genocide".
I should make something clear. When I say "the Guardian saw fit to alert us to spy cameras in Xinjiang as creepily exotic", I don't mean Davidson, Ni and caption writer set out to advance a war-mongering agenda. On the one hand they will have spent their own "lifetimes absorbing the message that states with socialised property relations are repressive …"
On the other, journalists who know what's good for them please editors. Editors who know what's good for them please owners. Owners not only crave honours and a seat at the high table. More fundamentally, they need advertisers and/or wealthy donors.
*
But what did Ms Davidson and Mr Ni actually say in Tuesday's Guardian? Here are their two opening paragraphs:
Authorities in … Xinjiang are using predictive policing and human surveillance to gather "micro clues" about Uyghurs and empower neighbourhood informants to ensure compliance at every level of society, according to a report.
The research by the Australian Strategic Policy Institute (ASPI) thinktank detailed Xinjiang authorities' expansive use of grassroots committees, integrated with China's extensive surveillance technology, to police their Uyghur neighbours' movements – and emotions.

To be fair, the article's penultimate paragraph does slip in a word or two on ASPI:
The ASPI report – funded partly by the UK, Australian and US governments [my emphasis] – adds to a growing body of evidence of Beijing's crackdown in Xinjiang. China's government has been accused by Human Rights Watch and legal groups of committing "crimes against humanity", while some western governments have formally declared the government to be conducting a "genocide".
But as the lowliest cub reporter knows, news stories are written to the pyramid principle. The most important content is top-loaded for busy readers who will take in the first two or three paragraphs then move on. Many of those who scan this story will never get to learn that its entire basis is the report of a think-tank funded by the very imperialist powers whose super-exploitation of the global south is threatened by China's rise. 4
And those who do get to that information will encounter it tucked away in an embedded sub-clause saying ASPI is part funded by said imperialist powers. But why the silence on who else part funds ASPI?
In my August 13 post I cited Caitlin Johnstone on warmongering "think tanks" in general, and ASPI in particular.
… our consciousness is pummelled with think tank narratives on China. See a headline about the Chinese boogeyman and it will almost always be authored by a sleazy think tank or based on the work of one. A few weeks ago 60 Minutes Australia ran a hysterical segment branding New Zealand "New Xi-Land" because its government didn't perfectly align with Washington on one aspect of its cold war agenda. It featured an interview with an Australian Strategic Policy Institute spinmeister as well as the ASPI office ...
… Says APAC News' Marcus Reubenstein:
ASPI is funded by the governments of Britain, Japan and Taiwan as well as NATO. Among corporate supporters are Thales … BAE Systems … Raytheon … SAAB … Northrop Grumman … MDBA Missile Systems  …Naval Group.
The military industrial complex – its revolving door/pork barrel access to political processes making a nonsense of democracy – will of course weaponise 'human rights'. But although Ni and Davidson rely pivotally on ASPI, they also say in this penultimate paragraph that:
China's government has been accused by Human Rights Watch … of committing "crimes against humanity" …
Two points here, one general and one specific. The use of such smear constructs as "has been accused of …" – variants include "it is thought that …" and "sources say …" – are evidentially worthless. But when they chime with overarching narratives, they do their work on the more dimly lit corridors – no smoke without fire – of consciousness.
(I speak here of a macro instantiation of a trend I've noted more than once at the micro end of things in a sly erosion, frequently in the name of high ideals, of the presumption of innocence. All too often, to be accused of something – anti-semitism, say, or transphobia – is to be guilty of the same.)
More specifically, HRW and other NGOs uncritically viewed as serving no ulterior agendas can and do advance the imperial interests of their more powerful funders. See Edinburgh University Professor Tim Hayward on this subject.
Tim's context is Syria but this goes wider. In those murky worlds where empire agendas, media propaganda, ideology-as-common-sense and agencies genuinely seeking to alleviate suffering all interact on informational battlefields, they do so in ways which serve the interests of power. The 'think tanks' lambasted by Caitlin are corrupt through and through. But while I would not say the same of HRW or Amnesty, these entities are immune neither from powerful ideological currents nor the corruptions, gross or subtle, of moneys accepted For The Greater Good.
But let's not get too complicated about all this. The bottom line is a Guardian which purports to stand for humanitarian and progressive values (but is best understood as a business catering to markets which want these things in selective and watered down forms) basing a news story – one more small piece in a lethal mosaic – on nothing more than the report of a risible source.
And not coming clean about the fact.
But of this we can be sure. Should the worst actually happen, the Guardian will be doing what it does best – wringing its hands over outcomes it did so much to bring about.
* * *