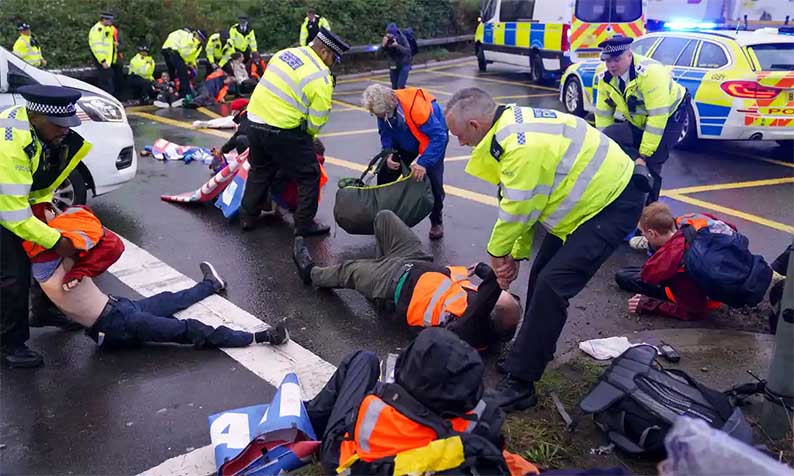 [Insulate Britain activists] the Guardian spoke to had all been involved in Extinction Rebellion, but some felt it had lost its way. "I've been on all these XR things; I'd go out every day and get arrested," Chris Parish, 69, from Tower Hamlets said. "But it's sort of somehow at the moment been subsumed by the system … It's like a carnival. I don't want to criticise it, but I feel like something more needs to be done."
In a post last month, giving my reasons for welcoming the rise of China, I set out my take – I say irrefutable – on the state the world is in and why. I followed with this:
The West's three broad strands of resistance – social democracy, 'vanguard' revolutionary sects, grass roots activism pace Occupy, XR etc – all have useful features but, each for its own reasons, zero chance of success of the kind and magnitude needed.
Re that third strand, I see the strengths of direct action as its panache, the sheer courage of so many of its practitioners, and its refreshing lack of proceduralism and intellectual dogma.
And its weaknesses? I'd place lack of class perspective, without which capital accumulation's irreducible incompatibility with eco-sanity cannot be grasped, at top of my list. Related is an irritated intolerance, after a period of initial exuberance, of political debate – not that Labour or 'vanguard' sects are in any position to lecture on this front – in the name of forging rainbow coalitions which, by their very heterogeneity, must dissolve in the face of concerted effort by a ruling class skilled in the arts of sowing division.
Chris Parish – quoted in the Guardian passage above (and as it happens a pal from my spiritual cult days, though we haven't communicated in quite a while, and never on this subject) – gets to the heart of the matter:
[XR has] been subsumed by the system … It's like a carnival. I don't want to criticise it, but I feel like something more needs to be done.
Won't that also be true of Insulate Britain? Perhaps, but I detect some key differences between it and the big 'rainbow coalitions' – from CND through to XR – of my lifetime:
At the heart of Insulate Britain is a class perspective. Granted, it's not the oppositional understanding of class which I, a non dogmatic Marxist, bring to bear on things but IB does one thing, and does it with simple genius. It pairs two of the three big issues of our time: eco-madness, and levels of inequality as dysfunctional as they are obscene. (The third being war in general, the US-led response to Eurasia Rising in particular.)
It is highly specific; its central demand both concrete and instantly understood.
The demand is in the spirit of Trotsky's 'transitional program'. You don't have to be a revolutionary to see the sense of it but, since no capitalist state can fully grant it, it is in principle capable of advancing radical consciousness of the criminal insanity of the capitalist mode of wealth creation.
So what's not to like? I'm even prepared to promote an opinion piece – penned by an Insulate Briton and featured yesterday – in the warmongering, Corbyn/Assange vilifying Guardian:
Insulate Britain won't be stopped by people who think you can grow concrete
Cameron Ford
I was lost for words when a radio presenter, someone responsible for informing the public, recently told me that you can grow concrete. I had been invited on to talkRadio to speak about being a part of Insulate Britain, and was instead asked about my job (I'm a carpenter), and whether cutting down trees is "sustainable" (I pointed out that, unlike concrete, trees grow back). The internet has erupted in laughter at the one-minute clip, but what's not funny is the government's pitiful supportfor home insulation.
Insulating homes is an essential part of our transition to net zero. This is why Insulate Britain is going ahead with protests despite the government's nationwide injunction against our campaign. Today, campaigners blocked major roads connecting the M25. We have a simple demand: insulate all UK homes by 2030 to cut carbon emissions and end fuel poverty …
… Instead of faffing about with heat pumps, the government could be taking the steps right now to reduce our dependence on heating in the first place. So why isn't it? To answer this, you need to think about who benefits from uninsulated homes. Energy and fossil fuel companies are the main beneficiaries of cold, poorly insulated homes in which people are forced to spend more on heating … 
Read the full piece (688 words) …
* * *