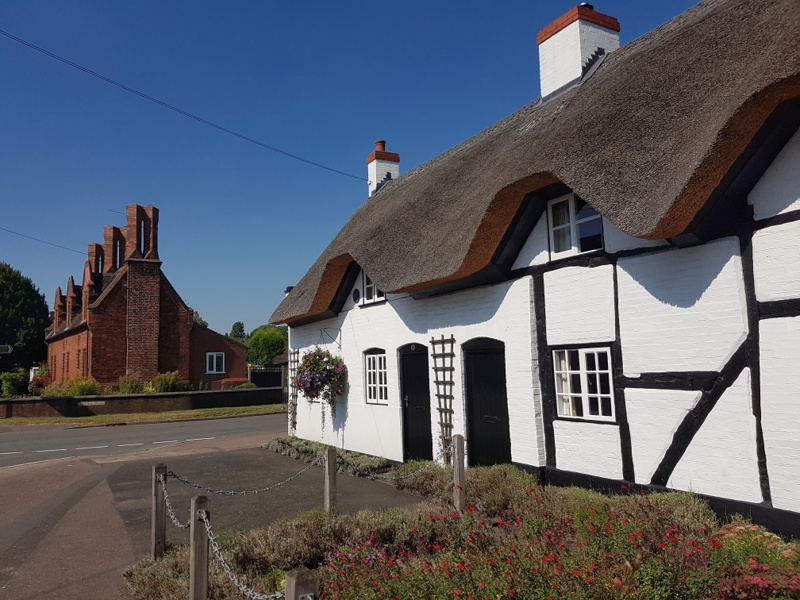 My house, bought in 1990, is leasehold at an annual ground rent of £3.26. The freeholder I knew as Mrs Anston. Every few years I'd write to a PO Box to ask how much I owed, get a handwritten reply, and send a cheque for the arrears plus two or three years. It was by today's standards a cumbersome but endearingly quaint carry-on.
(Fifteen years ago I had my one and only chat with Mrs A, on a phone number long forgotten. I'd toyed with buying the freehold. She named her price: £590 – with me to pay her solicitor's fees as well as my own. Having close to 700 years left on that peppercorn lease, and better things to do with my hard earned, my interest evaporated.)
Last month I wrote again, for the first time in quite a while. Both that sole exposure to her voice fifteen years ago, and those Dickensianly handwritten invoices, suggested that Mrs A could give me – a mere soixante-neuf  – a decade or two. I therefore opted, for the first time in our thirty-one years of twice-a-decade correspondence, to use recorded delivery. Good call. On Tuesday, a fortnight after sending, my letter was returned unopened and marked, "unable to deliver".
(£2.25 I shan't see again. That's 251.9172 days worth of ground rent, FFS!)
I went to online Land Registry to learn that the freehold had passed, possibly because Mrs A now sleeps with the fishes, to Y2K Company Ltd, based in Guernsey …

… and that correspondence should be c/o a Leicester based outfit, Rexhaven Ltd. The latter's site provided both an email and terrestrial address.
I mean no slight on the people of Guernsey. They suffered in WW2 and I'm sure their fisherfolk, dairy maids, B & B hosts and others doing Really Existing Business on the island are splendid souls. But firms trading in the UK while located in Guernsey can give a chap the pip. An NHS at breaking point comes to mind. Ditto schools holding jumble sales to buy textbooks … streets unswept … library doors closed for what remains of eternity … 1 The hackles rise. A venal pong ​enters the nasal corridor. One senses the nearness of what Grocer Ted called the unacceptable face of capitalism.
But we Brits are nothing if not civil. My email to Rexhaven was courtesy incarnate:
​From: Philip Roddis
Date: Tue, Nov 2, 2021 at 1:57 PM
Subject: Ground rent payments
To: <enquiries@rexhaven.co.uk>
Dear Rexhaven
I hope you can help me. The Land Registry tells me the freehold of a property whose leasehold I own has transferred to Y2K Company Ltd. And that correspondence to Y2K is c/o Rexhaven.
I need:
An up to date bill for ground rent in respect of my property.

Payment details so I can set up a standing order for future ground rent payments.
If you can supply this information I will be grateful. Failing that, are you able to forward my email to the appropriate recipient?
A little over two hours later came the reply:
​From: Ruth X
Date: Tue, Nov 2, 2021 at 4:08 PM
Subject: Re: Ground rent payments
To: Philip Roddis
Dear Mr Roddis,
Rexhaven are the Managing Agents for your Landlord The Y2K Company Ltd.
Unfortunately Rexhaven do not hold  up to date ground rent information so we would have to ask Y2K for a ground rent statement to know what is outstanding, they charge a fee of £120 for a statement.[My emphasis]
You can not set up standing order because they only issue ground rent demands every few years and they do not allow me to give out their bank account details because it's difficult to keep track otherwise if someone pays money in without using a reference.
Recall that ground rent of £3.26 per annum. Call me obsessive but I did the sums. £120 equates to thirty-six years, two hundred and ninety-five days, fourteen hours, one minute and twenty-three-point-five-two-seconds worth.
Did my Guernsey gangsters, while sticking two fingers at HMRC, have me over a firkin? I slept on it. Next day I found a site called Leasehold Advisory Service. In an online form I summarised the sitch. More rapidly even than Ruth X's, their reply was with me within the hour:
​From: Leasehold Advisory Service <info@lease-advice.org>
Date: Wed, Nov 3, 2021 at 2:28 PM
Subject: Your enquiry
To: Philip Roddis
Dear Mr Roddis,
Ground rent is only payable by a leaseholder if it is demanded by the freeholder in the prescribed format under the Commonhold & Leasehold Reform Act 2002. You have a right not to pay unless and until it is demanded in this format. I have included a link below to what the prescribed form of rent demand should look like.
https://www.lease-advice.org/lease-glossary/rent-demand/
It is not up to you to chase the freeholder for a rent demand and you can wait for them to demand it. A freeholder can go back a maximum of 6 years for arrears of ground rent.
I would, therefore, suggest that you just wait for the freeholder, or their agents, to demand the ground rent when they choose to do so. Until then you are under no legal obligation to pay .
Three cheers for Leaseholder Advisory Service! After thanking my legal eagle, a bloke named Simon, and giving stellar feedback plus triple WOW! rating with brass knobs via a second form, I replied to Ruth of Rexhaven:
​From: Philip Roddis
Date: Wed, Nov 3, 2021 at 3:20 PM
Subject: Re: Ground rent payments
To: Ruth X
Thank you for your prompt reply.
I respectfully decline the invitation to pay £120 for the privilege of having an inherited creditor tell me how much I owe, and how to pay it. Especially when this is many, many times the sum owed!
Ground rent is only payable by a leaseholder when demanded by the freeholder in the prescribed format under the Commonhold & Leasehold Act 2002.
My postal address is xxxxxxxxxxxxxxxxxxxx. Since Rexhaven, hence Y2K, now have two ways of contacting me, I await such a demand as specified in the Act.
One hundred and seventy minutes later, Ruth of Rexhaven came back with this butter-wouldn't reply:
​From: Ruth X
Date: Wed, Nov 3, 2021 at 6:10 PM
Subject: [my property]
To: Philip Roddis
Dear Mr Roddis,
No problem, I have forwarded your postal address to The Y2K Company Ltd so that they have the correct details for when they next issue ground demands.
I pass no judgment on Ruth of Rexhaven. Who knows what personal circs, what hungry mouths to feed or other literal or metaphoric guns to the head have conspired to give this poor woman no other recourse than to walk so luciferous a career path?
*
I don't put an NHS on its uppers (with privatisation hailed as saviour) and all the rest down to tax dodgers. I'm sufficiently onboard with MMT to reject household budget analogies for the UK economy as a product mainly of economic illiteracy but in some cases of mendacity. This has nothing to do with the law of value. That criticism from some Marxists confuses apples with oranges; fiscal and monetary policy, in a state issuing a fiat currency, with value in the economy. But tax does matter, if not for the reasons usually given. (Reasons that echo the near universal myth of a fiat currency issuer collecting taxes and/or 'borrowing' in order to spend: as opposed to creating money as needed, then taxing sufficiently to curb inflation.)