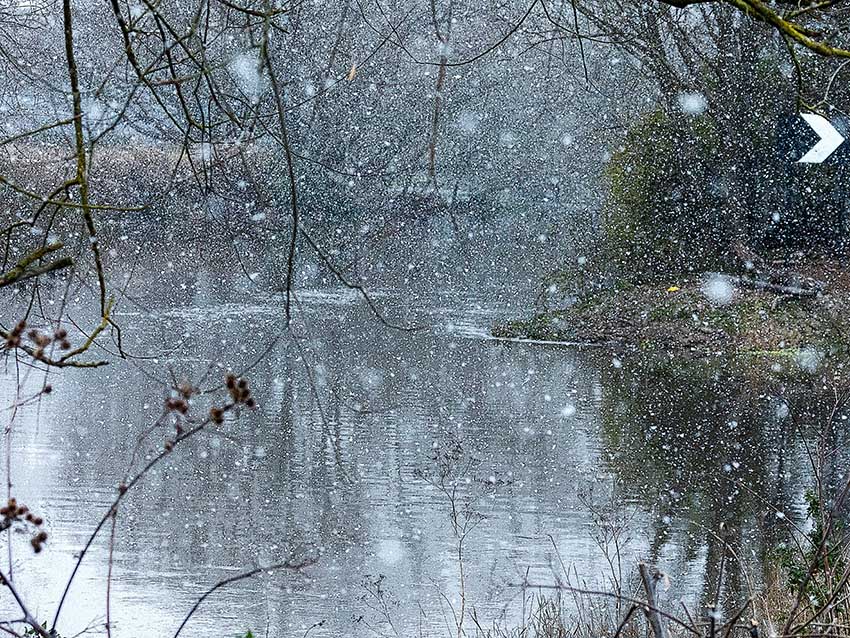 The River Soar yesterday. What follows is less pretty.
I'm promoting three reads here, starting with Caitlin Johnstone's post today:
Humanity Is Still Trying To Be Born
Things are fucked. That's our current situation in a nutshell.
In a slightly bigger nutshell, things are fucked because powerful people are making them fucked, and they won't stop unless ordinary people use their superior numbers to make them stop, but ordinary people are being psychologically manipulated away from making them stop by propaganda.
This is happening on a global scale, on national scales around the world, and on pretty much any other scale you want to break the collective humaning fractal down to. 1
Our biosphere is being destroyed by the reckless pursuit of profit. US war-mongering is leading to a final confrontation with Russia and China that could end life on Earth. Authoritarian agendas are being rolled out by ruling power structures to exert greater and greater control of populations. And oppressive and exploitative status quo political systems are held in place in supposedly free societies despite mountains of evidence that those systems do not serve the interests of ordinary people.
All of these dire realities are manipulated, distorted, re-framed or simply omitted by the sources which people have been trained to look to for information about the world. As long as we're successfully manipulated away from forming a clear picture of what's going on, things will remain fucked.
I agree, but of the primary stripes of fucked Caitlin identifies, my focus has for a while now been on one in particular. It should be obvious to a child that the daily outpourings of Sinophobic bile on every conceivable front – by media of both populist and 'quality' stripe, generalist as well as business-oriented – are driven by the economic threat posed to the West by China rising.
Or to be precise, the threat to a tiny elite – Caitlin's "ruling power structures" – within the West.
Obvious to a child. Trouble is, adults consume media whose systemic corruptions – a mockery of democracy – "manipulate [us] away from forming a clear picture of what's going on".
On China (as on so much else but right now I'm staying with China) nothing we are told by any segment of corporate media should be taken at face value. The threat to imperialism 2 posed by China's rise is simply too great for truth to trump power in the reckonings of journalists 3 who, if they know what's good for them, please editors who, if they know what's good for them, please proprietors who – even if their socio-economic position did not place them firmly within a ruling class whose existence only the truly credulous deny – need advertisers and, should such market discipline fail (which on matters vital to said ruling class it rarely does) will face the more direct discipline of the deep state.
One day it's the Guardian on 'human rights' in Xinjiang. Another its BBC and CNN 'reminding' us of Tiananmen Square in ways that fail predictably to say how tendentiously selective were their own contemporaneous accounts. Or it's an uncritical acceptance of a privileged minority's one-sided take on Tibet, merging seamlessly with orientalism … with entire lifetimes absorbing the vital message that Socialism Doesn't Work … with conclusions drawn from 007 and Animal Farm. Or it's China's alleged belligerence to Taiwan. Or the insistence, not so much evidence-lite as evidence-defiant, that Belt & Road is a plot to debt-trap the global south.
(Now there's projection for you.)
Shit, it can be as pathetic as the lie, in Rothermere's Mail and Murdoch's Times, of a black face photoshopped out of promotional images for the launch in China of the Dune movie …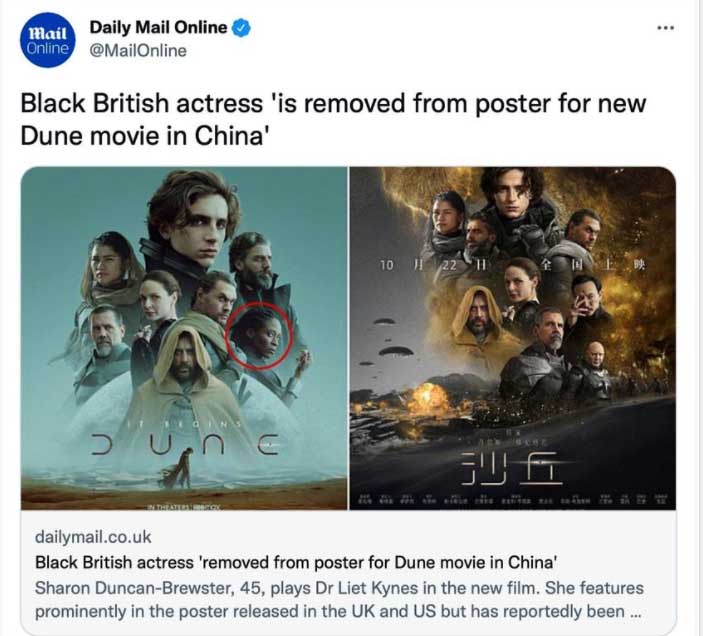 Beneath this many-fronted propaganda blitz lies a simple truth. There is but one reason why the lies – and even where the attacks do contain a sliver of accuracy (as propaganda usually does) they deceive us on the why now? question – are coming at us from every media direction.
We are being psychologically prepared for war. 4
Cue for my second read. Writing on the Information Clearing House website yesterday, Ajamu Baraka begins (abridged here) thus:
The Delusional Commitment to the Doctrine of "Full Spectrum Dominance" is leading the US and the World to Disaster
The 21st Century was supposed to see unchallenged global dominance by the US in its Project for a New American Century (PNAC). The optimism was understandable. With the fall of the USSR, it saw no check on US power. According to liberal theorists like Fukuyama, with the dismantling of the Soviet state and system, the historic struggle to establish the hegemony of classical liberalism and capitalism as the inevitable outcome of the "Western" driven project known as modernity had come in an end.
For both classical liberals like Fukuyama and neocons who would rise to power under George W. Bush, Western societies marked the apex of collective human development: history and objective rationalism had determined it so.
But human societies, even those claimed to be guided by objective scientific laws, never emerge as a tabula rasa. What develops at any point in history is the outcome of the social and economic contradictions of the previous era with many of those unresolved contradictions still present.
US dominance and the end of history, decreed in the nineties, was an ideological fiction like Hitler's Thousand-Year Reich. And like Hitler, with whom the managers of the US empire share a commitment to white supremacy and a recognition that global hegemony needs a colonial empire, US policymakers made fatal strategic blunders once they found themselves with unchallenged global power.
Why?
A delusional worldview infused with white supremacism makes it impossible for those infected to cognitively grasp the world as it really exists, let alone to understand the limitations of their power.
That is precisely why the dawn of the 21st century saw the US embroiled in two military conflicts that US policymakers thought they could successfully conduct with a poverty conscripted army and the dubious rationale of the "War on Terror."
But instead of the global natives being in awe of US. power, by 2007 what Mao Zedong had proclaimed, and the Vietnamese confirmed, was that the US was a "paper-tiger."
And with the defeat in Iraq and Afghanistan, did US policymakers reassess their military-first approach? Of course not.
Amid precipitous global decline, and with an ongoing and deepening crisis of legitimacy at home, Obama launched and/or supported at least three wars, and Trump continued many of those policies, including escalating tensions with both Russia and China.
Biden embraced the anti-Chinese belligerence of the Trump administration and Obama's  pivot to Asia – and the dangerously irrational belief that military bluster would pre-empt or reverse the fate of all empires when their subjects are no longer afraid, and the rulers unable even to convince themselves they are still fit to rule.
Yet this is a cold-blooded criminal class; ruthless and still dangerous. The destruction of Libya, wars in Syria and Yemen, subversion in Ethiopia and Haiti, coups, illegal sanctions and the outrageous meddling in Nicaragua and Venezuela 5 are just some of the actions that bear out the destructive power of the US …
From Ajamu Baraka's overarching perspective, in its way a complement to Caitlin's, we get to my third read: the most specific, and the scariest, of the three. It's from Finian Cunningham, also posted yesterday to the ICH site, and starts like this:
Biden Just Announced Date for WWIII
The Biden administration this week brazenly announced its intention to walk over China's red line warning on Taiwan. The move by the US is a recklessly provocative step that dares an inevitable military response from Beijing.
If that happens then all bets are off for a full-scale military confrontation between the United States, its allies, and China. It is not alarmist to say such a clash would escalate into World War III.
Australia and Britain are explicitly committed to a military alliance with the United States in the Asia-Pacific through the recently formed AUKUS pact. Russia will be obliged to defend China.
The date in question is December 9-10 when the Biden administration plays host to a so-called "Summit of Democracies". This week the State Department announced a list of "participants" that include 110 countries. China and Russia are not invited, among other excluded nations.
Most provocatively, the separatist Chinese territory of Taiwan is invited to attend the video conference. The US is careful to refer to Taiwan as a "participant" not as a "nation". Nevertheless, this semantical device aside, the invitation is a blatant violation of China's sovereign claim of authority over Taiwan.
China's claim to Taiwan as being a part of its integral territory is recognized by the United Nations and, at least in theory, by the United States with its One China Policy since 1979.
The island of Taiwan has existed as a self-governing territory since China's civil war ended in 1949 with communist victory. The nationalist opponents fled to Taiwan. China retains the right to reunite Taiwan under governance from the mainland. Beijing has warned it will do so by military force if Taiwan ever declares independence.
Washington maintains a position of "strategic ambiguity" whereby it acknowledges a One China Policy while also simultaneously offering US commitments to help Taiwan with military defence.
Since Joe Biden took the White House in January, his administration has taken this ambiguity to dangerous levels. At one point, Biden has overstepped policy by explicitly stating the US would defend Taiwan in the event of a confrontation with China.
* * *