A week ago, in Magic Money Tree? Part One, I spoke of the chilling circumstances confronting humanity. I spoke too of the main strands of resistance in the West – social democracy, trade unionism, revolutionary sects and direct action – as incapable, whatever their other virtues, of effecting change of the kind, scale and timeliness needed. And I saw our best hope in the rise of China (a view no more acceptable to the far left 1 than to liberals) before replicating a Positive Money.org piece, its essentials at one with modern monetary theory (MMT).
I concluded with this:
… many [MMT] pundits display naivety as regards the West's power structures … Does this render them irrelevant for those who recognise the dire straits in which humanity finds itself? I think not and my starting point for saying so is in the "impossibilism" of Leon Trotsky's Transitional Program. But that will have to await Magic Money Tree? Part 2.
So here we are. But if you'll excuse my darting down memory lane once more, this time to August 2021, I've a mea culpa  to make. In Richard Murphy's peaceful revolution, I wrote:
I admire economist, 2 tax specialist and Modern Monetary Theorist Richard Murphy. This despite my deep suspicions of MMT (often derided as "magic money tree" not only by … neoliberalism but by a Marxism which – correctly as best I can tell – sees in MMT a defiance of the law of value.
"... as best I can tell …"  My bad. I was confusing apples with oranges, fiscal and monetary matters with economic ones, description with prescription. Here's Richard Murphy the other day:
MMT is not a policy: it is a description of how money actually works in the economy. I believe that description is right: the choice as to whether you follow all the policy prescriptions like the job guarantee is for you to decide on. 3 There are three key issues though, I think.
First, people are taught markets rule. They don't. But we've had politicians so incompetent and chaotic that they have abandoned decision making to the markets, and especially central banks. The result is going to be a crash due to interest rate rises that are totally unnecessary.
Second, politicians of all parties seem to think that shrinking the state is the goal of public life. Most of economics is designed to confirm that. MMT says that's not necessary. It lays out the conditions where politicians can decide what size of state they think is needed.
Third, MMT challenges Thatcher's household analogy that suggested the economy is like home. Thatcher forgot government's create money, households don't, so they're totally different. MMT says managing like a household is a disaster for a country: the opposite of what is needed.
The problem is not with the markets. The power to control markets exists, as Japan shows. Just because the Fed wants to trash the US economy and that of developing countries 4 we don't have to follow suit we don't have to follow suit and raise rates, for example.
The problem is with governments who think they cannot stand up to markets in the public interest. As a result they let bad things happen because some in the City abuse market power for their own interests: you're more than familiar with that.
Professor Murphy is certainly generous. He attributes that surrender – of economic planning to the casino capitalism of hyper-financialised markets – to incompetent politicians. But ineptitude of this scale and longevity cannot be laid at the door of stupidity alone. It requires other drivers – cowardice and venality spring to mind – and a revolving door between high office and high finance in the corporate world. And while I'm in quibbling mode, perhaps the professor should substitute China for Japan in that penultimate paragraph.
Such carps aside – ditto objections from those who say capitalist markets are uncontrollable by definition 5 – Richard Murphy strikes me as having a cast iron case, morally and logically. But what has this to do with Leon Trotsky's "impossibilism"? Glad you asked. Feel free to mug up on his Transitional Program 6 if so inclined. Here I'll simply set out its context and essence:
On the eve of WW2, revolution in the West having failed to materialise, the Soviet Union stood alone. Stalin had long ago declared the waiting over. There was no alternative, he insisted, to the aim, hitherto deemed both heresy and oxymoron, of building socialism in one country. If a pact with Nazi Germany could further that end – when large sections of the British and US ruling classes saw Bolshevism as the greater threat – then so be it.
For his part Trotsky, now a prophet in exile and one of the very few to see in fascism not just another form of reaction but something new and terrible, concerned himself with the problem of bridging the gap between workers' current state of political awareness, and 'revolutionary consciousness'. He argued for the formulation of demands which met the needs of the hour – and would be perceived as such by workers who still believed in the reformability of capitalism – but which no capitalist regime could concede.
Whether or not the modern monetary theorists realise it, some of the policy goals permitted by their understanding – not of how money should  work but of how, for sovereign issuers of a fiat currency, it does  work – are very much in the spirit of Trotsky's transitional demands.
In The Deficit Myth, Stephanie Kelton sets out the most accessible summation of what MMT is about. Here's a passage from her introduction:
In 2019, the House and Senate passed legislation that increased the [US] military budget, approving $716 billion, nearly $80 billion more than Congress had authorized in fiscal year 2018. There was no debate about how to pay for the spending. No one asked, Where will we get the extra $80 billion? Lawmakers didn't raise taxes or go out and borrow an extra $80 billion from savers so that the government could afford to make the additional payments. Instead, Congress committed to spending money it did not have. It can do that because of its special power over the US dollar. Once Congress authorizes the spending, agencies like the Department of Defense are given permission to enter into contracts with companies like Boeing, Lockheed Martin, and so on. To provision itself with F-35 fighters, the US Treasury instructs its bank, the Federal Reserve, to carry out the payment on its behalf. The Fed does this by marking up the numbers in Lockheed's bank account. Congress doesn't need to "find the money" to spend it. It needs to find the votes! Once it has the votes, it can authorize the spending. The rest is just accounting. As the checks go out, the Federal Reserve clears the payments by crediting the sellers' account with the appropriate number of digital dollars, known as bank reserves. That's why MMT sometimes describes the Fed as the scorekeeper for the dollar. The scorekeeper can't run out of points.
There is, of course, nothing transitional – in the sense Trotsky intended! – about magicking into being the money for Washington to impose its imperial will on the world while further enriching the shareholders of Boeing, Lockheed-Martin, Raytheon et al. (And what did I say earlier about "a revolving door between high office and high finance"? ) Nor, though now it may be me who is being generous, do I suppose left-of-centre Ms Kelton sees these things as good. She simply makes the point that the government of the USA – like that of the UK and any number of other issuers of a fiat currency – can never run out of money. 
(But her example – 'No one asked, "where will we get the extra $80 billion?"' – packs a whiff of the transitional. To be sure, pacifists and left reformists often contrast cuts to public services, on ground of 'unaffordability', with eye-watering "defence" expenditure. But their arguments are dove v hawk clashes over priorities. Both sides not only assume a finite pot of money that can be increased only by taxing, borrowing and/or making cuts elsewhere. They conflate that "pot" with economic capacity. For its part MMT calls out the false premises of such debates, showing instead how those 'eyewatering expenditures' on the death sector are possible.)
It is not my job here to set out the core principles of MMT. The Deficit Myth, a snip at £0.99 in its Kindle form, does that admirably. (I also recommend signing up for daily e-alerts to Richard Murphy's blog: biased towards the British scene but a shade to the left of Ms Kelton and more in step, whatever his intent, with the spirit of Leon Trotsky. Though I disagree with him on some fairly fundamental things, this Scottish Nationalist Quaker has a clarity of style, accompanied by zero tolerance for the asinine, I warm to.)
Nor is it my job to address the objections many, whether left leaning or right, will have. Here too Ms Kelton does a good job. I'll just summarise the biggies:
So MMT is saying any sovereign government may print as much money as it likes without fear of the consequences?  
No, it isn't. Don't make the conflation I made: of fiscal/monetary practice with the real economy, which at any given time will have a 'natural' limit. Obsessed with decreasing the national deficit, and in the grip of a homely but utterly specious Thatcherite model of household budgeting, politicians in the US and other fiat currency issuers are ensuring their economies work below (or in rare instances above) this limit – one measure of said limit being full employment. Whatever else Ms Kelton and I may differ on, I am now as one with her on this.
Isn't a deficit inherently bad?
Not when, as any accountant will tell you, a deficit 'here' is a surplus 'over there'. When a government creates more money than it takes back in taxes, the gain will be to the real economy as homes, schools and hospitals are built; wages paid and spent. Running a king-size deficit, especially in times of economic crisis – are you listening Mr Sunak? – is a moral and fiscal imperative.
Since sovereign governments print money at will, why bother taxing their citizens?
Because taxation serves other purposes. Most fundamental of these is the control of inflation but other functions include (potentially!) more equitable wealth sharing – a UK wealth tax, anyone? – and deterrence of 'sinful' activities like smoking.
Since sovereign governments print money at will, why do they borrow?
This is a more complex question, not least when the world's most powerful state differs from other fiat currency issuers in having made its own debt highly profitable, demarked as it is in dollars untethered to gold since 1971. (France's Valery Giscard d'Estaing had this in mind when he referred to "America's exorbitant privilege".) The question also recalls Professor Murphy's "generosity" in chalking up to incompetence, pure and simple, that which has darker drivers. We are not speaking of leaders in the political sphere deferring to money markets behind a firewall. Would that we were!
This is as far as I'm going today. My aims were to (a) describe and contextualise 'transitionality'; (b) give a skeletal overview of MMT; (c) hint at areas of complementarity. Job done. In Part 3 I'll ask how the transitional implications of modern monetary theory may offer useful leverage in the situation confronting my own country.
*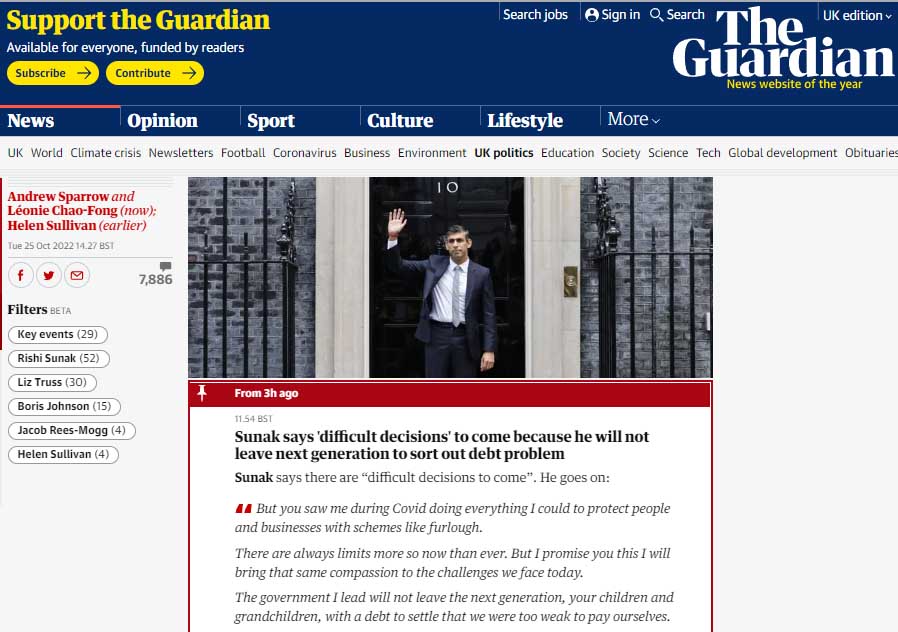 No. Mr Sunak – the third British prime minister in seven weeks and a day, and the second to be imposed by a cabal – is not listening. Far better to impoverish our children and grandchildren than saddle them with a 'debt problem'. Bah!
* * *