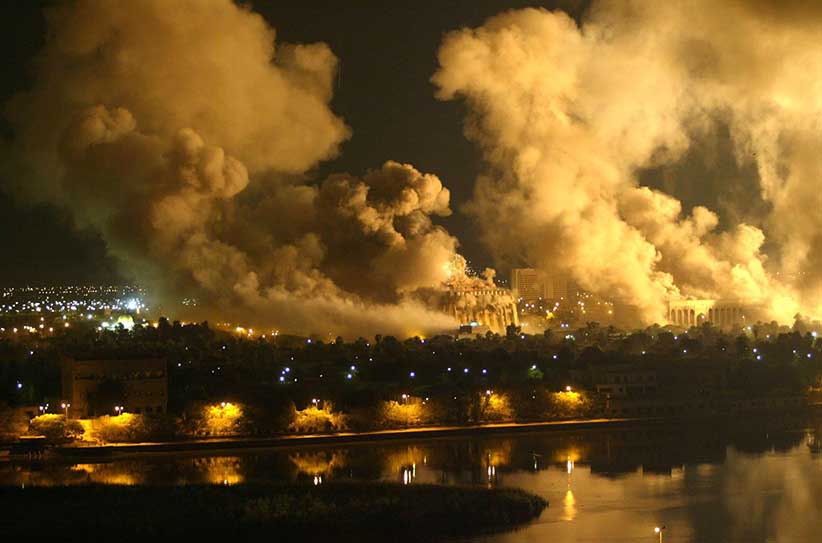 Shock and Awe  comes to Baghdad, March 2003
Fourteen months ago I opened a post on the tragedy of Corbynism with this:
On a few issues – Russia, the 2016 US Election, Brexit, Syria, Venezuela – my positions, and reactions to them, have threatened or cost me friendships I valued. Yet no one took me to task over specifics. No one ever said:
You know what, Phil? You're dead wrong about Putin .. Trump/Clinton .. the nature of the EU .. Assad .. Maduro. And here, point by closely argued point, is why …
Rather, they traded generalities. I'm biased, said some. True. It's hard to be impartial when your country, armed to the teeth and in bed with an even mightier power, wages hot war or imposes infanticidal sanctions on the global south in the name of lofty ideals but in the interests – as factually demonstrated in posts like this – of profits.

I'm an extremist, said others. Well, yes, it will look that way if, lulled by careful omission and the seemingly sober and reasonable voices of what Tariq Ali called the Extreme Centre, a violently insane world order has been successfully presented as mainstream and by that fact moderate. Which is to say, if your overarching weltanschauung  is at root shaped by two realities. One, like mine your life is one of material comfort and freedoms beyond the reach of most people that on earth do dwell. Two, unlike mine your window on the world is framed almost entirely by corporate media, of which Noam Chomsky has made two telling observations. Here's one:
These are big corporations selling privileged audiences to other corporations. Now the question is, what picture of the world would a rational person expect to come out of this structure?
And here's the second:
The smart way to keep people passive and obedient is to strictly limit the spectrum of acceptable opinion, but allow very lively debate within that spectrum – even encourage the more critical and dissident views. That gives people the sense there's free thinking going on, while all the time the presuppositions of the system are being reinforced by the limits put on the range of the debate.
Still other of my detractors served up strawman argument with heavy handed sarcasm – "oh yes, I'm sure Assad is a saint!"  But the most memorable generality – "my politics aren't the same as yours" – effectively denied any relevance to factuality. We may as well have been discussing preferences for jazz over classical, Thai cuisine over Italian, Chelsea FC over Arsenal.
None of those who made such arguments is stupid or immoral. Most have degrees, doctorates etc, so are well trained in the construction of arguments grounded in evidence and framed in logic. So why won't they debate me point by point?
They can't. They sense instinctively that I must be wrong but can't engage me on the facts. And why would they? As Caitlin Johnstone often reminds us, narrative beats facts hands down in the arena of opinion manufacture. And as any observer of the human condition knows, 'instinctive sense' – in this case nurtured by narratives spun by those best equipped, pace Chomsky, to do so – beats reasoned analysis. Also hands down.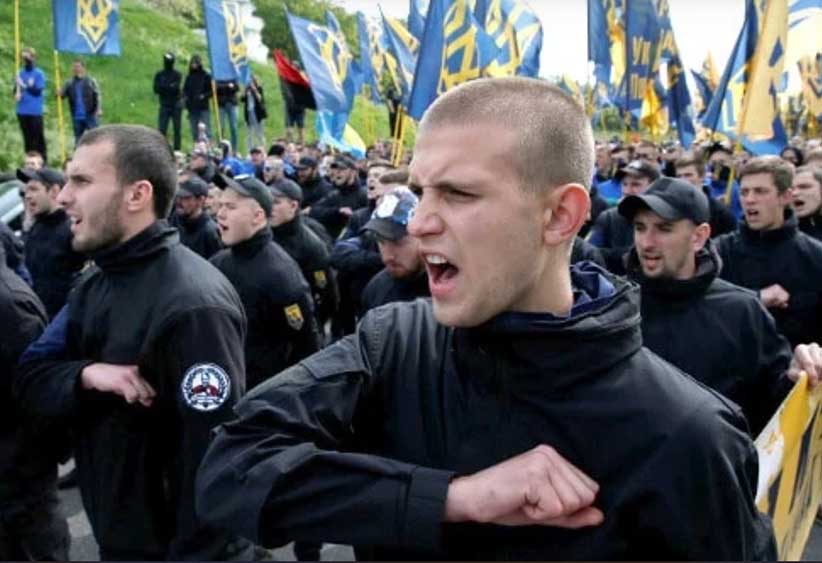 Tomorrow belongs to me? The Azov Battalion struts its stuff in post Maidan Ukraine
Fourteen months on, nothing has changed. In spades, on steroids, or whatever earthy turn of phrase you might choose to emphasise a propaganda blitz of unprecedented ferocity, the Evil Putin in Ukraine  narrative exceeds any I've experienced in my seventy spins around the sun.
But the change is quantitative, not qualitative.
In an outpouring of posts since early February, I have had the gall and brass neck to impose on any who'll lend me an ear my evidence and reasoning – while trying to leave room for what I do not and cannot know – for saying that culpability for a potentially global disaster in Ukraine lies overwhelmingly with the US Empire.
I won't repeat my arguments. That's not my purpose here. Rather, I want to make something clear. I do not tell people what to think. I tell people what I  think, and why.
Do feel free to drop me a line, or post a comment, to say where I've got it wrong.
* * *