In a recent post – Who am I? (And why write?) –  I put out as incontrovertible facts that:
The single most salient aspect of Planet Guardian is that empire is invisible to its columnists and core readership alike. On the dark side of its moon, so to speak.
And that beneath a veneer of democracy we are ruled:
by gangsters who will stop at nothing to shore up their assumed right to plunder the earth and all that's in it
I routinely define imperialism as the export of monopoly capital from global north to south, and the repatriation from south to north of profits.
As with all accurate scientific definitions, its hallmark is parsimony. So much is covered by those nineteen words. Conversely, not a word (articles and conjunctives excepted) may be removed without jeopardising the whole.
So much covered, by so very few words:
Why (since imperialism's globalising of capital-labour relations is no less dependent on armed might than was the more overt larceny of direct-rule colonialism) the situation depicted by Caitlin Johnstone pertains. One in which the lead imperialism:
is circling the planet with hundreds of military bases, continually working to destroy any nation who disobeys it, and has spent the 21st century killing people by the millions.
Why – for the same reason – that lead imperialism, and the second tier imperialisms of the West at large, spend huge sums on "defence" in regions far from their homelands (which face no credible threat of invasion).
Why, since the export of monopoly capital is also the export of jobs, President Trump was never going to deliver on "bringing US jobs back home". Mr Trump was one of the many who applaud "free markets" they do not understand. (Few capitalists do. Understanding is (a) dangerous and (b) superfluous to the requirements of making money.)
Why a US-led West is determined to defeat the challenge from Eurasia rising, most alarmingly in Ukraine and the South China Sea.
Why I say we are ruled by gangsters who will stop at nothing to shore up their assumed right to plunder the earth and all that's in it.
Why, if we add a few words on business models seldom talked about, those gangsters can depend on the support – critical at times but, when it most counts, unconditional – of all sections of corporate media
If you don't "get" the above core truths then your understanding of the world will remain at the level of an infant's.
(I wasn't this blunt when I began blogging, but now see little point – and one or two weighty negatives – in sugaring the pill.)
But scientific definitions, though not without poetic grace, 1 can be dry things. They are abstract, when most of us yearn for the concrete.
That's where examples come in. As it happens, one crossed my path this morning in the shape of a CounterPunch piece by editor Jeffrey St. Claire.
The Spy in the Torture Chamber
Gina Haspel: Out of the Black But Still in the Dark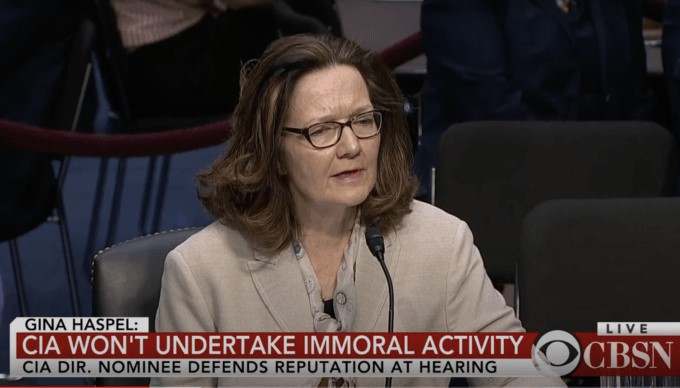 Did Agent Zulu Nine Alpha 2  lurk in the shadows of the black site in Thailand she ran as the two torture shrinks strapped a man down and poured water down his throat until he felt as if he was drowning, over and over again? Or did she step into the harsh interrogation light to let the terrified man glimpse the face of the woman who was supervising his torments? He had been stripped naked; every part of his body exposed before this silent, severe woman. Was it part of the plan? To ratchet up the psychological humiliation? To squeeze him from every angle until he broke?
The man's name is Abd al-Rahim al-Nashiri. He is a Saudi, who the CIA fingered as an Al Qaeda member who helped plan the 2000 bombing of the USS Cole, while it was docked in the harbor at Aden in Yemen. Two years later, Al-Nashiri was nabbed in Dubai by a CIA snatch-and-grab unit and hustled off to a CIA prison in Afghanistan. For the next four years, al-Nashiri was shuffled from one CIA black site to another: Thailand, Poland, Afghanistan and Romania. At each stop he was interrogated, threatened, abused, and tortured. Then in 2006, al-Nashiri was sent to Guantanamo, where he remains.
*
It's also in the name of avoiding dry abstraction that, despite its repellence, I keep showing this image, this searing metaphor for empire facing its own decline and by that fact adrift from any moral compass…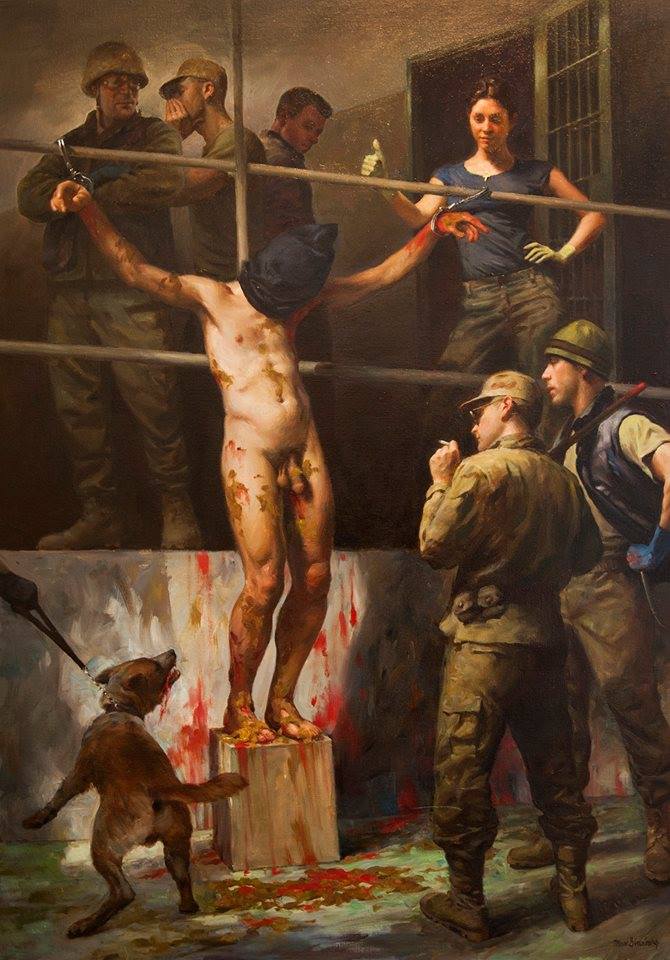 … and this one …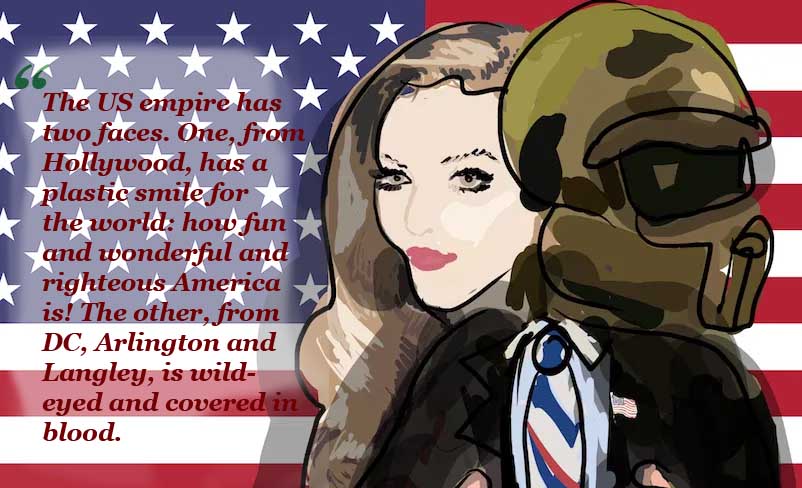 * * *
Don't you love the streamlined elegance of this definition by physicists? Work is said to be done when the point of application of a force moves.  Beautiful.
Z9A – Zulu Nine Alpha – was the codename for Ms Haspel, now CIA Director, used in last month's Hearing in Guantanamo Bay – New York Times, June 3.