It's not yet eight but already hot. In shorts and t-shirt I sit at the corner where Zhili 2nd Road crosses Ming Sing Street in Khaosiung, Taiwan's second city. I'm in the shade outside a 7/11 store – I should dedicate a post to these – watching the world and sipping just about passable latte from a disposable cup. Here's the dude at the next table.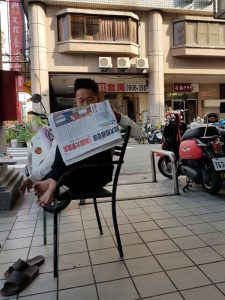 From over the street an oldster beats a slow but steady path to the 7/11, oblivious to tragic removals by tow truck of cars illicitly parked by Saturday night revellers.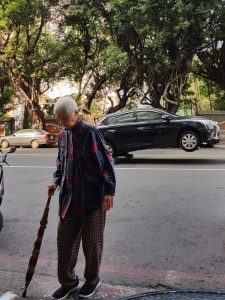 Caffeined up, it's back to our – I'm here with Jackie – thirteenth floor studio flat, secured for us by Jill (her anglicised name) whose English fiancé Jackie works with on trips to mainland China for Nottingham Uni.
A tom on a motor-scooter merits a snap – but not the scratch behind the ear I'd have given him back home. Never met a cat yet that didn't like that, but my penchant for adventure stops well this side of courting rabies, long though the odds may be.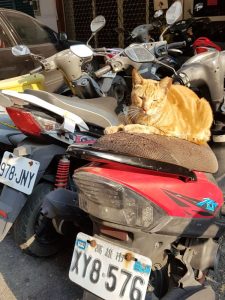 Jill turns up at 10:30. The three of us take the metro, then a two hour bus ride to Kenting National Park to hit the beach. What is it about sun, sand and surf that brings out the kitsch in us? Yea though I walk with disdain past the Big Cock chocolate phalluses, yet verily cannot resist the equine lawman – sat right outside this for real and twenty-four carat cop shop – for whom right and wrong are absolutely black and white.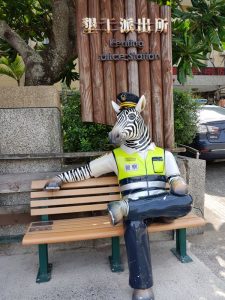 … nor do Bathing Belles escape my phonecam.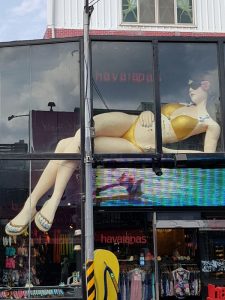 We're hungry, and Jill assures us of the excellence of a Thai joint en route to the bay. She not only spoke truly but insisted, in the face of vigorous protestation, on picking up the bill.
That's bass, by the way, gently and briefly simmered in a thin consommé of exquisite flavours – including, of course, that Thai staple, lemongrass. Mmm …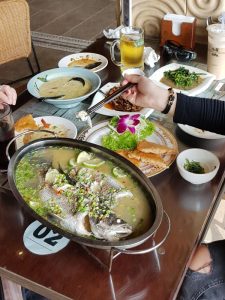 And so to the beach. Taiwanese are a happy people.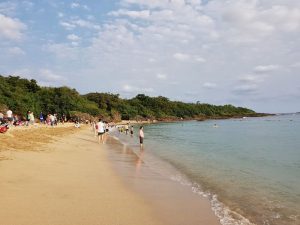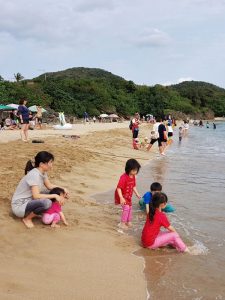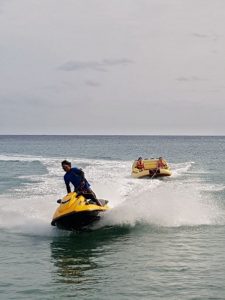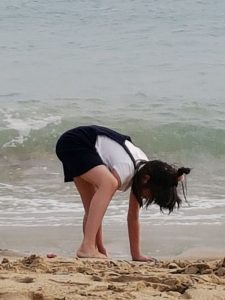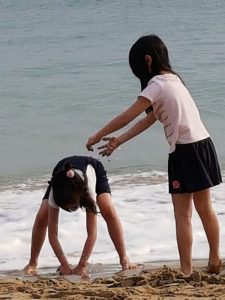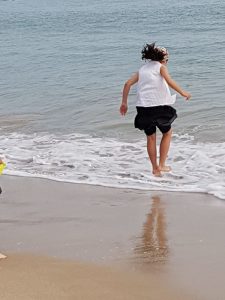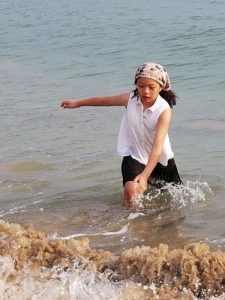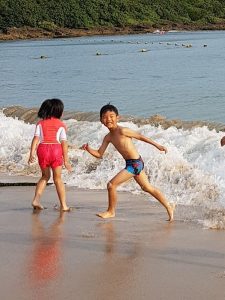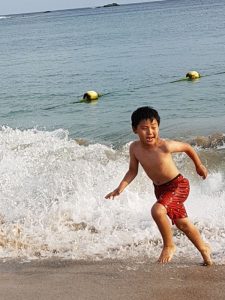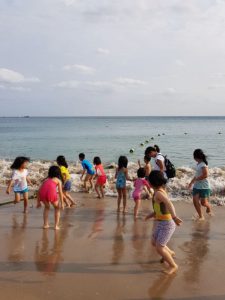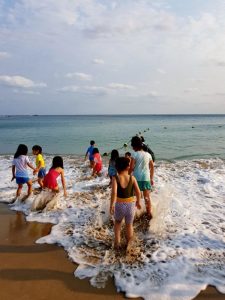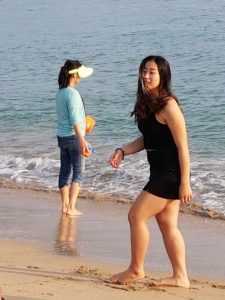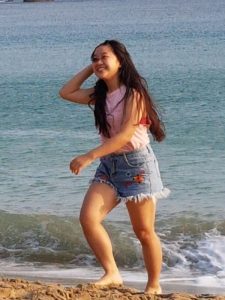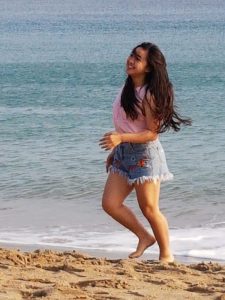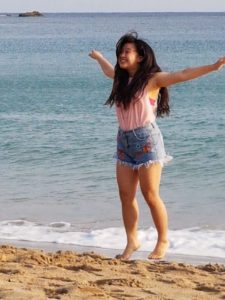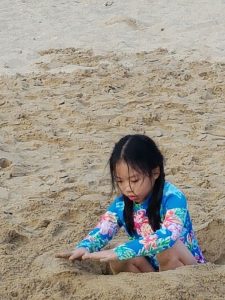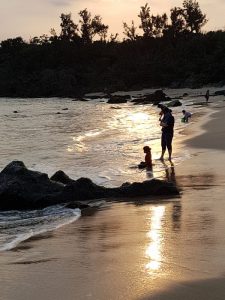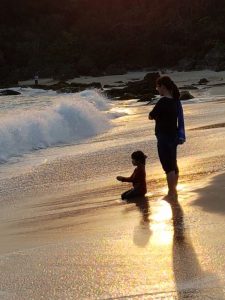 Up on the sea front the night market stalls are setting up. Roughly one in three are in the business of mixing cocktails, with white rum Mojitas the clear favourite.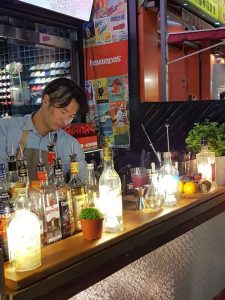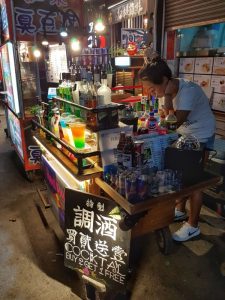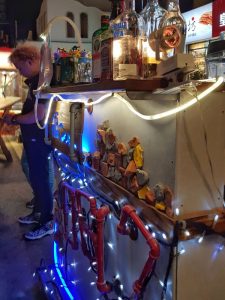 Jill works for the FBI, I'm sure of it.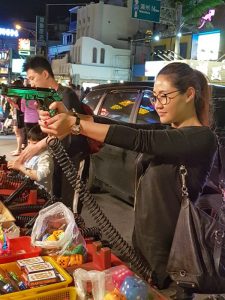 Drink all night? Not my scene, and never was. Not even back in the day …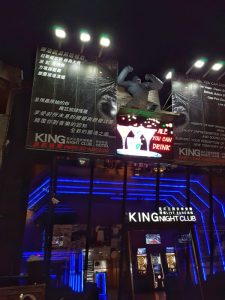 … and anyway we've a three-hour bus ride home. The last two-hour express left an hour ago.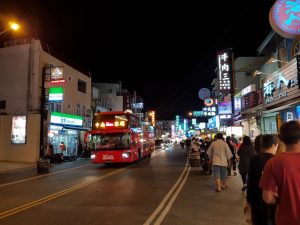 The driver is one of those young tearaways who think they're in Formula One. As I move deeper into the bus he lurches forward then, for reasons I'll never know, stamps on the brakes to pitch me flat on the old boat race two metres down the aisle. Faces of concern look down. Hands of solicitude are extended. A pretty lady retrieves the phone that flew from my grasp to bounce the length of the vehicle. Laying shapely palm on my shoulder, she asks in heavily accented but grammatically sound English if I'm alright. I've  taken a cut to the forehead and direct hit to my elbow, in one of those prangs you know aren't serious but leave you sick to the pit-of for a good five minutes. As ever, Leonard Cohen comes to mind: when you've fallen on the highway, and you're lying in the rain/and they ask you how you're doing, of course you say you can't complain …
Assuring one and all I've never felt better – giving my wellwishers to understand that, contrary to appearances and in plain point of fact, there's nothing your true born Englishman likes better than to round off a day on the sands by being tossed around like a can of fucking tomatoes on the bus home – I leap like Lazarus to walk unaided to my seat, where I sit out the long ride to Khaosiung nursing a wounded elbow and stabbing contemplatively at deep fried mushrooms with the tiny wooden spear provided by night market merchant at no extra charge.
*