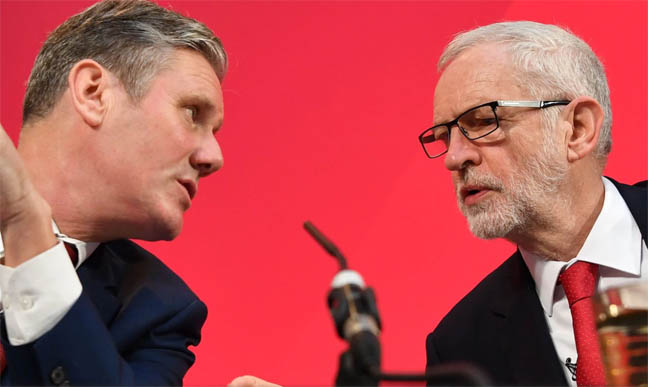 I began political blogging ten years ago, with increased intensity in the past five or six. On a few issues – Russia, the 2016 US Election, Brexit, Syria, Venezuela – my positions, and reactions to them, have threatened or actually cost me friendships I valued. Yet no one took me to task over specifics.1 No one ever said:
You know what, Phil? You're dead wrong about Putin .. Trump/Clinton .. the nature of the EU .. Assad .. Maduro. And here, point by closely argued point, is why …
Rather, they traded generalities. I'm biased, said some. True. It's hard to be impartial when your country, armed to the teeth and in bed with an even mightier power, wages hot war or imposes infanticidal sanctions on the global south in the name of lofty ideals but in the interests – as factually demonstrated in posts like this – of profits.
I'm an extremist, said others. Well, yes, it will look that way if, lulled by careful omission and the seemingly sober and reasonable voices of what Tariq Ali called the Extreme Centre, a violently insane world order2 has been successfully presented as mainstream and by that fact moderate. Which is to say, if your overarching weltanschauung is at root shaped by two realities. One, like mine your life is one of material comfort and freedoms beyond the reach of most people that on earth do dwell. Two, unlike mine your window on the wider world is framed almost entirely by corporate media, of which Noam Chomsky has made two telling observations. Here's one:
These are big corporations selling privileged audiences to other corporations. Now the question is, what picture of the world would a rational person expect to come out of this structure?
And here's the second:
The smart way to keep people passive and obedient is to strictly limit the spectrum of acceptable opinion, but allow very lively debate within that spectrum – even encourage the more critical and dissident views. That gives people the sense there's free thinking going on, while all the time the presuppositions of the system are being reinforced by the limits put on the range of the debate.
Still other of my detractors served up strawman argument with heavy handed sarcasm – 'oh yes, I'm sure Bashar Assad is a saint!'  But the most memorable generality – 'my politics aren't the same as yours'  – effectively denied any relevance to factuality. We may as well have been discussing preferences for jazz over classical, Thai cuisine over Italian, Chelsea FC over Arsenal.
None of those who made such arguments is stupid or immoral. Most have degrees, doctorates etc, so are well trained in the construction of arguments grounded in evidence and framed in logic. So why won't they debate me point by point?
They can't. They sense instinctively that I must be wrong but can't engage me on the facts. And why would they? As Caitlin Johnstone often reminds us, narrative beats facts hands down in the arena of opinion manufacture. And as any observer of the human condition knows, 'instinctive sense' – in this case nurtured by narratives spun by those best equipped, pace Chomsky, to do so – beats reasoned analysis. Also hands down.
In this case the narrative works night and day to deny the truth, hiding right out in the open, that our world order is imperialist. Of which I'll stick with my working definition, frequently offered on this site:
Imperialism is the North-South export of monopoly capital, and South-North repatriation of profits.
For a closely argued account of how it works, try John Smith's Imperialism in the twenty-first century. Meanwhile my assessment, slowly arrived at, is that failure to recognise ours as an imperialised world – or recognising it with insufficient clarity to grasp its logical corollaries – lies at the heart of those weltanschaungs which put me and similar writers beyond the pale.
We are too far outside the Overton Window, you see. But few grasp how and in whose interests that window is constructed. Worse, there are those with a sound grasp of the Overton Window who suddenly forget all they know in the face of especially ferocious propaganda blitzes.
So what has this to do with 'the tragedy of Corbynism'? Glad you asked. Like many on Britain's Left – from Labour 'moderates', through Jezza devotees, to those scornful of the very notion of 'parliamentary socialism' – I've read dozens of post-mortems on Labour's crushing defeat of December 2019. Many made good points – see this review of Owen Jones's book, This Land3 – but even the best, such as those offered by Jonathan Cook, Caitlin Johnstone and (ahem) me, have been limited.
Typically we cast the media as central villains. In particular we poured vitriol, and rightly so, on liberal media which, as they had with Julian Assange, worked so hard to undermine progressive support for Labour's first real challenge in decades to neoliberalism and 'austerity'. All well and good as far as it goes, but such analyses lack the requisite depth. For that we must factor in that elephant in the room whose remarkable invisibility has caused me such frustration – as per the above – in my dealings with those alienated by my views on, amongst other things, Russia, the 2016 US Election, Brexit, Syria and Venezuela.
And this is where I stop and hand over to by far the best – the most fearless and thoroughgoing – analysis of "the tragedy of Corbynism". It first ran in the subscribers section of CounterPunch on December 27 but, by January 3, the Greanville Post was hosting a non-paywalled version. Written by Dan Glazebrook, this 7500 worder is the first I've read that places imperialism fair and square at the centre – the alpha and omega – of its analysis of the tragedy of Corbynism.
I don't say it's flawless. It could have done with another proof read where ill placed quote marks introduce ambiguity as to who is saying what. More important, a claim that labour aristocracies in the West are paid "above the value" of their labour-power invites unanswered questions on how the value of this unique commodity4 is determined by socio-political as well as natural and productivity realities. More important yet, I'm less than convinced by Glazebrook's suggestion, towards the end, that the forces Corbynism unleashed should or even could have been diverted from utopian dreams of parliamentary socialism – or the more modest dream of gaining office – to focus on educating future generations in the realities of class struggle.
But in the wider scheme of things these are minor carps. Written clearly, in a manner devoid of those hackneyed and needlessly alienating phrases beloved of so many writers on the Left, Dan Glazebrook's piece gets a lot more right than it gets wrong.
The Tragedy of Corbynism
Corbyn's election as leader of Labour party in 2015 was seen by much of the British left as their best chance to reverse the neoliberal imperialist trajectory of the British state for at least a generation. With a solid track record of opposition to war, nuclear weapons and privatisation, he was able to capture the imagination of a disenfranchised youth sick of corporate-sponsored politicians, quickly turning the Labour party into the biggest mass membership party in Europe, with over half a million members. Two years later, defying all predictions, Corbyn's Labour managed to overturn the ruling Conservatives' parliamentary majority in a snap election which was supposed to deliver them a landslide. The prospect of a Corbyn government, with a genuine commitment to reversing the inequality and militarism that had become the hallmark of the western world, seemed to be a real prospect – perhaps even an inevitability.
Yet the general election of 2019 saw the entire project come crashing down in flames. Boris Johnson's revitalised Tory party, united around a Brexit deal which had escaped his predecessor, stormed back to power with the party's biggest majority since 1983, stripping Labour of dozens of working class constituencies it had held for generations. Corbyn was replaced by Sir Kier Starmer QC, heralding a purge of Corbynites from the frontbenches. Within a few months, Corbyn himself had been expelled from the parliamentary party.
Explanations for the 2019 result came thick and fast, and their apparent variety obscured the basic argument which tended to run throughout all of them: "Corbyn lost because he didn't do what I said". For the party's right wing, he lost because he was too left; for the left, he lost because he had not moved decisively against the right. For Brexiteers, he lost because of his support for a second Brexit referendum; for Remainers, because this support came too late. For many Corbynites, the result was simply down to contingent tactical mistakes and the hostility of the media; and for Tories, of course, it simply demonstrated, once again, the British people's instinctive, and correct, abhorrence for socialism.
For socialists, the temptation is to forget the whole sorry saga and 'move on'. But a serious postmortem is essential if we are to have any hope of learning from the mistakes (as well as the successes) of the movement.
At the outset of this process, it is essential to recognise some basic political realities.
Firstly, the UK is an imperial entity. The relinquishing of formal political rule over most of its colonies between the 1940s and 1970s (with the crucial exception of a string of strategically-positioned island territories such as Diego Garcia, the Caymans, the Falklands, the Virgin islands and around a dozen others) has not changed this simple reality. The basic contours of the world economy created by colonialism – a system of wealth transference from Asia, Africa and Latin America to North America and Western Europe – remain intact, and have indeed been strengthened and perfected in the era of neo-colonialism, to the extent that net resource transfers from the global South to the North today amount to roughly $3trillion per year – triple the value of goods and services flowing the other way, and twenty-four times the total value of North-South foreign aid. Much of this uncompensated wealth transfer is via 'capital flight', often illicit, and mostly facilitated through the network of tax havens located in Britain's remaining island colonies.
Secondly, and contrary to the claims of the colonial left, this wealth does not only benefit a tiny minority. From the 1840s onwards, writes historian Eric Hobsbawm, a 'labour aristocracy' began to emerge in Britain – a privileged section of the working class paid above the value of their labour power out of the profits generated by empire. Since 1945, this labour aristocracy, argues Zak Cope, has come to encompass the entire citizenry of countries such as Britain. The domestic accomplishments of Clement Attlee's Labour government – the NHS, social housing, the welfare state – were largely paid for by the intensified exploitation of the colonies, and colonialism has underwritten social democracy ever since. Even in the era of neoliberalism, which has seen welfare states decimated, the British population (at least up until the 2008 crash) has seen the value of its real wages increase, as intensified exploitation of the global proletariat has led to cheapening consumer goods.
Thirdly, Britain has consistently used its military might to protect and defend this colonial wealth transfer whenever it has been under threat. From the opium wars of the mid-nineteenth century, to the destruction of Libya in 2011, any and every country which has refused to collaborate with the precepts of the colonial global economy has met the wrath of the UK military, either overtly or covertly (with the exception of some Latin American countries, the war against whom has been largely been subcontracted to the US). It is largely for this reason that Britain has invaded no less than 90% of the current member states of the UN at some point.
Social democracy in Britain has always reflected this colonial reality; it has always been a fight over the spoils of colonialism, rather than a challenge to it. The need to uphold and defend the colonial wealth transfer at the heart of world capitalism has always been the singular point of agreement between governments of left and right in the UK. It was, after all, the Attlee government that initiated both Britain's nuclear weapons programme and NATO, as well as sending troops to Greece, Malaya and Korea to drown their revolutions in blood and restore the rule of more pliant local aristocrats; and it was Tony Blair's New Labour who spearheaded illegal Anglo-American aggression against Serbia and Iraq as well as sending troops to Sierra Leone and invading Afghanistan, for the fourth time in Britain's modern history. All of these interventions, from Attlee to Blair, can best be understood as wars to contain threats to colonial 'global capitalism' in general (as Christopher Doran has comprehensively shown in the case of Iraq) and British corporate interests in particular (as documented by Mark Curtis). Social democracy in Britain has, in reality, always been social imperialism – the provision of social gains for the British on the backs of millions of superexpoited workers in the global South, backed up by military force where necessary – and the Labour party has, for over one hundred years, been at its vanguard.
This is the historical movement which, in 2015, Jeremy Corbyn suddenly found himself heading. At first, he seemed …
* * *