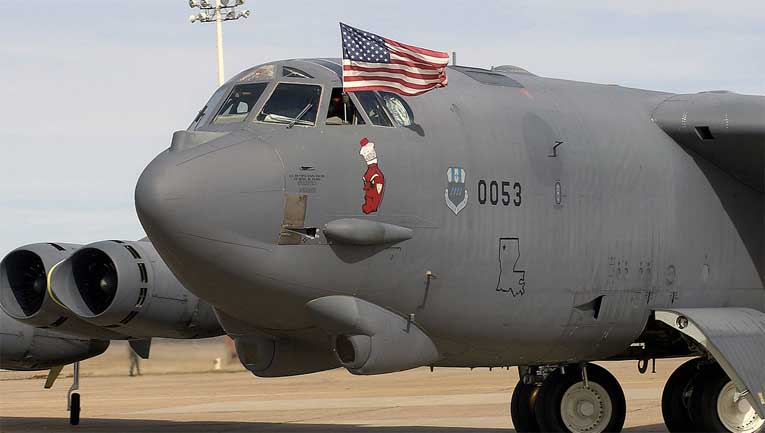 Steve Gowans  has been cited before on this site, in respect of Syria and in my review of Israel: a Beachhead in the Middle East. Two days ago, on a different but related topic, he wrote:
US bombers, says a B-52 pilot at 8:20 of this video, "are what you send over there to change people's minds when you want to get things done." He doesn't say what people's minds are to be changed to, but there are plenty of indications that "getting things done" means making people 'over there' more accommodating to the demands of US investors and corporations. When minds need to be changed [for] unimpeded access to foreign markets by US businesses, protection of US intellectual property, and the opening of strategic industries to US investment, the bomber is a US instrument of choice. 
"Basic U.S. interests in the Indo-Pacific," observes Chas Freeman, a retired US diplomat, "remain simple and straightforward: "Unimpeded access to the region's markets, products, services, financial resources, and scientific and technological innovations." 
Jacob J. Lew, a former US Treasury Secretary, and Richard Nephew, a researcher at the Brookings Institution, identify fundamental U.S. foreign policy interests as promoting free trade and creating foreign markets for U.S. goods and services. 
Which is to say, US foreign policy, backed by B-52 mind-changers, is guided by the goal of securing profit-making opportunities around the world for US investors and corporations. If "people over there" resist, well, the United States has plenty of B-52s to change minds and get things done.  
The Pentagon, the Wall Street Journal informs us, plans to rely on B-52s "to prepare for the wars of the future." This suggests that US planners have already queued up a series of foreign aggressions, calling to mind the future wars once planned in Berlin (against a string of European countries) and Tokyo (against China, as well as the East Asian and Pacific colonial possessions of the United States, Britain, and the Netherlands.) Imagine the outcry, entirely warranted, were China's Global Times to run a story under the headline, For Wars of the Future, PLA Looks to Hypersonic Missiles. Were China openly planning wars of the future, as the United States is, and crowing about them in its newspapers, it would be marked, quite justifiably, as a menace to humanity. The logic applies no less strongly to the United States …
Full text (with references) here.
*