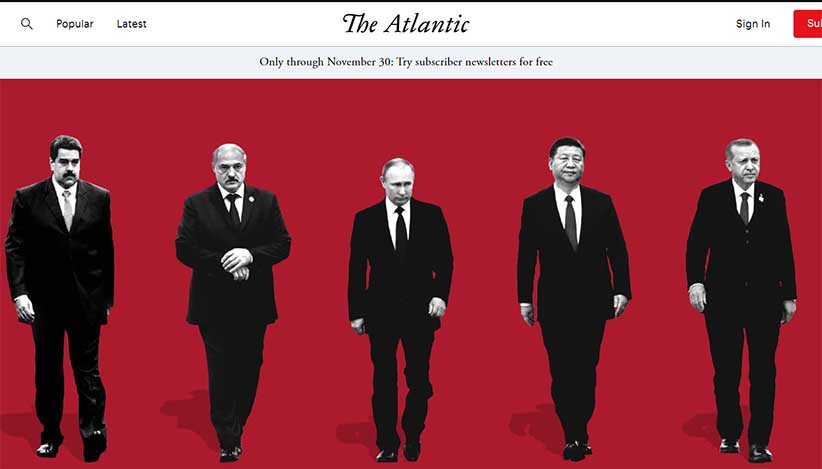 Above is the illustration for the cover story of next month's issue of The Atlantic, mouthpiece for US liberalism. Before I get to that story, here's former Guardian writer Jonathan Cook, as cited in my recent post on FB 'whistleblower' Frances Haugen:
There are rival visions of what the … state should do, how best to manage its interests and … shield it from scrutiny or reform. Those inside the organisation are united in their motivation to maintain their power, but often divided over how that can best be achieved.
… the opposing visions typically revolve around liberal and conservative values; a simple binary reinforced by electoral systems that encourage two parties, two sets of values: Democrats versus Republicans; Labour versus Conservatives; and so on.
It is part of the establishment's success – the way it preserves its power – that it can present these two choices as meaningful. 
Now back to The Atlantic. Its cover story, The Bad Guys Are Winning, is by Anne Applebaum, a regular columnist for the Washington Post, another organ of the neo-liberal as opposed to neo-conservative wing of the US ruling class.
Those lined up in the cover image are, from left to right: Venezuela's Nicolás Maduro, Belarus's Alexander Lukashenko,1 Vladimir Putin of course, Xi Jinping of course, and Turkey's Recep Tayyip Erdoğan.
What ostensibly connects the five Bad Guys is not that one way or another, to greater or lesser degree, they thwart the West's ongoing exploitation of the global south. Perish the thought! No, the common factor is that they are 'authoritarian' – unlike the democratic Good Guys who have incarcerated Julian for 10 years, with a further 175 in reserve, for revealing the depth and fullness of their criminality.
So we might note – for example – the omission of Narendra Modi. India is US capital's key ally in the region, given Pakistan's Janus headed ambivalence, in an existential fight to disrupt China rising by all means short – so far – of war.
And we might wonder at Erdogan's inclusion, given that Turkey is still a Nato member. (Albeit an increasingly erratic one since a 2016 coup attempt many if not most Turks regard as made with CIA support.)
Otherwise the line up is what we'd expect: of men who lead states troublesome, with the two greatest threats centrally placed in the montage, to Wall Street and dollar hegemony. These, says the liberal Atlantic, are the Bad Guys who, ominously for its world vision, "are winning".
This is to be a short post so I'll make only a few points. Says Ms Applebaum:
Belarus lured Afghan and Iraqi refugees to Minsk with a proffer of tourist visas, then escorted them to the borders of Lithuania, Latvia, and Poland and forced them at gunpoint to cross, illegally.
That's it. All she has to say on a matter which has led to brinksmanship sending shivers down EU spines. That those refugees exist precisely because her Good Guys, with the EU role that of cheerleading and narrative maintenance, spent two decades invading, bombing, droning, using jihadi terror and otherwise building hell on earth in the lands they'd once called home doesn't merit a mention.
(Anne Applebaum, incidentally, lives in Poland.)
Elsewhere, harrowing but anecdotal and unverifiable stories are given in intimate detail:
 …Tursun is a Uyghur … born in the territory the Chinese call Xinjiang … Tursun had six children—too many in a country where there are strict rules limiting births. Also, she wanted to raise them as Muslims; that, too, was a problem in China … 
But what of the US controlled World Bank's grudging acknowledgement of China having lifted, in a single generation, hundreds of millions of its citizens (Uyghurs and Tibetans included) out of extreme poverty? Without this unprecedented feat, a lamentable failure to reach global south targets on precisely that metric would have been far worse.
(As recently pointed out on this site, extreme poverty is seldom if ever presented as a violation of human rights. A shade too implicating of "Western values", perhaps?)
And what of IMF puppet Yeltsin overseeing plunging life expectancy, starvation, and overnight billionaires as a result – see Naomi Klein's Shock Doctrine, Chapters 10-11 – of 'market reforms' which elsewhere serve those Good Guys so well?
(Things went off-script in Russia insofar as the fruits of privatisation were trousered by the old apparatchik caste and ex KGB, when they'd been earmarked for Wall Street, but that's another story.)
What too of the fact that Putin turned this and much besides around with a speed and efficacy directly reflected in the West's need to demonise him?
I mention these things in passing. Anne Applebaum sure as hell doesn't.
* * *