Bill Gates and the power of the world's richest men have been on my mind of late. The third of my three autumn reads last month was an in-depth on how the Gates Foundation bypasses critical scrutiny and accountable oversight in arenas, notably social policy, of public concern.
And five days ago, in a post ostensibly about Facebook 'whistleblower' Frances Haugen – but far more importantly about
media, old and new, and the nature of ideology
– I wrote:
… a Guardian now reliant on donors like Mr Gates attests to the reality of 'media buyers' (a Madison Avenue term speaking truer than it knows) not coming online with the sums once hoped for; rather, sensing more bangs per buck in sponsorship and celebrity endorsement.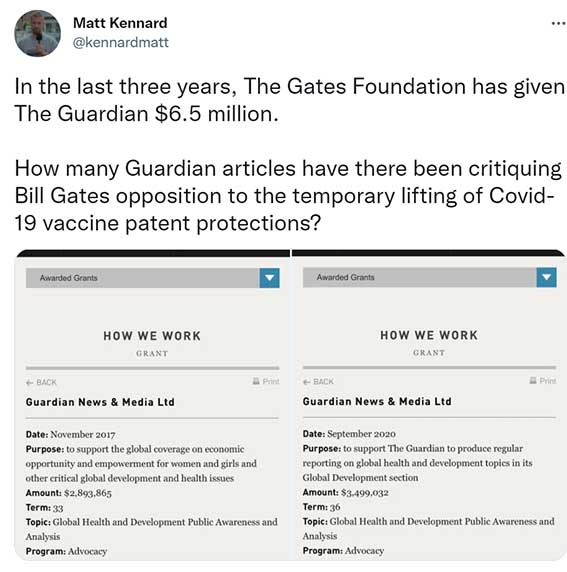 It gets worse. Here's Alan Macleod, writing yesterday in MintPress:
Until his recent messy divorce, Bill Gates enjoyed something of a free pass in corporate media. Generally presented as a kindly nerd who wants to save the world, the Microsoft co-founder was even unironically christened "Saint Bill" by The Guardian.
While other billionaires' media empires are relatively well known, the extent to which Gates's cash underwrites the modern media landscape is not. After sorting through over 30,000 individual grants, MintPress can show that the Bill and Melinda Gates Foundation has made over $300 million worth of donations to fund media projects.
Recipients include many of America's most important news outlets, including CNN, NBC, NPR, PBS and The Atlantic [see my post on this Atlantic piece]. Gates also sponsors a myriad of influential foreign organizations, including The BBC, Guardian, Financial Times and Daily Telegraph in the UK; prominent European papers like Le Monde (France), Der Spiegel (Germany) and El País (Spain); as well as big global broadcasters like Al-Jazeera.
Of the MintPress revelations, former Guardian columnist Jonathan Cook – quoted at length in that Frances Haugen post – had this to say in three successive tweets yesterday:
An investigation shows Bill Gates has spent at least $319 million (the money that can be traced) bankrolling hundreds of media outlets – the very institutions that claim they hold the powerful to account.
Next time the Guardian comes cap in hand, telling you it's 'fiercely independent.. free from commercial or political influence', remember that the paper took the second largest sum from Gates: almost £13 million.
Remember too what that £319m [sic] buys when you are greeted with the response that only conspiracy theorists criticise Gates – even as it is shown that he is buying further influence over an already profit-driven, inherently corrupt corporate media system.
*